For most websites, Google is the most important source of visitors. No matter how strong your social media presence may be, Search Engine Optimization (SEO) is paramount to your site's growth. Therefore, every site needs a way to manage its SEO metadata.
Perhaps the easiest way to manage your metadata is by using the Yoast SEO plugin. Yoast enables you to create custom titles and meta descriptions for your posts, as well as offering content and readability analysis to help you optimize your writing.
In this article, we'll explain what metadata is as it relates to SEO, as well as how it can affect your search engine rankings. Then we'll discuss how to optimize the metadata for your WordPress posts using Yoast SEO.
Let's get started!
An Introduction to Metadata as It Relates to SEO
Metadata is information about a web page that is not necessarily visible on the page itself. Search engines use this data to rank the relevancy of sites for various search terms.
Some of the most important metadata, however, can be seen in search results, such as titles and meta descriptions:
Each search result in Google will present a title and a brief summary of the page's content. This summary is the meta description. Learning to write effective meta descriptions will go a long way to improving your SEO.
How Metadata Affects Your Search Engine Rankings
Google ranks keywords and keyword phrases by how often they are searched for. You can see the most popular search terms via the auto-suggest feature, as you begin to type in a search. In fact, this is one of the ways you can find popular keyword phrases to use with your posts. 
Posts are then ranked by how 'relevant' they are to these keyword phrases. Google does this in a number of ways, including by looking at how relevant your post's title is to the search keyword, and how well that title matches the post's content.
This is one reason title and meta descriptions are so important to SEO. In addition, this information can also help entice searchers to click on your links. A well-written description can mean the difference between a user visiting on your website or someone else's.
In summary, metadata tells search engines what your article is about and how it relates to key search terms. Plus, it helps attract relevant searchers and encourages them to visit your pages.
How to Optimize Metadata for Your WordPress Posts (Using Yoast SEO)
If you are using WordPress to manage your posts, Yoast SEO is an easy way to get started with SEO:
This tool provides many features, including built-in fields for entering your metadata. In addition, it offers a content and readability analysis to help you write better posts for SEO.
The first thing you'll need to do is install and activate the Yoast plugin. Once the installation is complete, you can begin entering metadata for your posts via the following steps.
Step 1: Optimize Your Post's Permalink
The permalink for your WordPress post is its full URL. Permalinks are one of the factors Google looks at when ranking your site. Therefore, your permalink should signal to search engines the relevance and reliability of your page:

With Yoast installed, you now have a tool to help you edit your metadata, including permalinks. If you open up the editor for one of your posts, you'll find the Yoast SEO widget at the bottom.
Go ahead and expand the Snippet Preview section. This displays an example of how your post will appear in search results. Click on Edit snippet, which will open a field showing what your post's link will look like and giving you the option to modify it: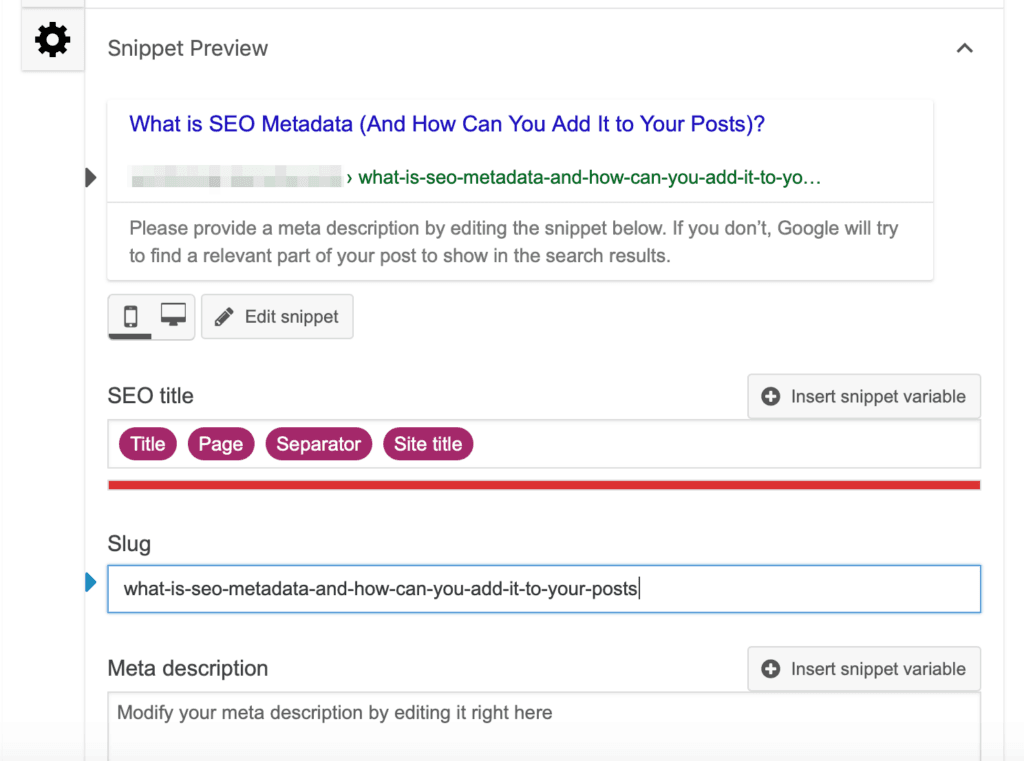 Under the Slug field, you will see your post's default permalink, which you can edit. For SEO purposes, your permalink should include keywords directly related to the content of your post, cutting out small 'stop words' like "the" and "a":
Changing your link in this field will alter how the URL appears in the Snippet Preview:
The shorter your permalink is, the better, but it should also match the content of your post as closely as possible. In this case, we want our post to rank well whenever someone searches for "seo metadata", so we've shortened the permalink to focus on that key phrase.
Step 2: Create a Meta Description
Next, you'll want to create a meta description for your post. This is a short summary of what its content is about.
It is recommended to keep your meta descriptions no longer than 160 characters, so you will need to be succinct. You'll also want to be as direct and clear as possible. State exactly what the post covers, and what readers can expect to gain from it.
It's also a good idea to include a keyword that matches your post's title in your meta description, but don't go overboard. Keyword stuffing won't help you rank higher, and will only confuse searchers.
To write your meta description, go back to Yoast's Snippet Preview:
At the bottom is the Meta description field. Once you have finished writing it, you'll see it in your preview at the top:
A good practice for meta descriptions is to include a call to action whenever relevant. In this case, the description states explicitly what information the post contains and offers a solution. This way, searchers know exactly what they are getting when they click on the link.
Step 3: Choose a Focus Keyword
By now, you may have a good idea of what keyword or keyword phrase you want to use for your post. This primary keyword is the search term you want your post to rank highly for.
Yoast will provide feedback on how to improve the content of your post based on a keyword you enter. Simply type it into the Focus keyphrase field:
After you have entered your focus keyword, Yoast will provide an analysis of your post. This is valuable information that you can use to improve your post's SEO. It can also teach you how to write better optimized posts in the future:
Choosing the right keywords is important, and there are a number of ways to go about finding them. Once you have one in mind, you can use Yoast's clear guidelines to incorporate it throughout your post.
Conclusion
Optimizing your SEO metadata can help both users and search engines find and view your content, which is why every site needs a way to manage this information. One of the easiest ways to do this is with Yoast SEO.
To optimize metadata for your WordPress posts using Yoast, just follow these three steps:
Optimize your post's permalink.
Create a meta description.
Choose a focus keyword.
Do you have any questions about metadata or Yoast SEO? Ask away in the comments section below!